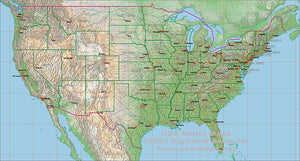 USA Relief East 31 State Map Package Collection
Mountain High Maps USA Relief Map Collection of each US State is a high quality fully editable shaded relief and geopolitical vector map in Cartographic projection.Each state map portfolio is supplied with five alternative shaded relief topo relief maps and a comprehensive set of layers of editable features and names including coastlines, rivers, interstate / major roads, railroads, county, state and international borders, town locations, town names text and latitude/longitude grids. The JPEG relief maps can be modified in Photoshop and the EPS maps can be easily and quickly loaded into desktop design, typically Illustrator, for publishing, presentation for the highest quality geographical representation.
The USA Relief collection of 50 US states exceeds 8 GB and 400 files. The entire USA State Relief Map collectionis split into separate East US and West US collectionsand division between East and West follows approximately the 95º line of longitude or the Mississippi River.
East: Alabama Arkansas Connecticut Delaware Florida Georgia Illinois Indiana Iowa Kentucky Louisiana Maine Maryland Massachusetts Michigan Minnesota Mississippi Missouri New Hampshire New Jersey New York North Carolina Ohio Pennsylvania Rhode Island South Carolina Tennessee Vermont Virginia West Virginia Wisconsin