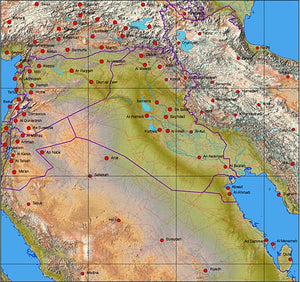 Photoshop JPEG Relief map and Illustrator EPS vector map Iraq #322
Iraq and surrounding countries-35 East to 52 East, 24 North to 40 North.
Includes parts of Saudi Arabia, Iran, Israel, Lebanon, Jordan, Turkey and Kuwait.
File sizes: Relief map decompressed 100 MB, JPEG 9.5 MB - EPS Illustrator 6.6 MB.Dimensions 6,117 X 5,760 pixels (20.39 X 19.20 inches at 300 dpi).
Features JPEG relief map with overlaying EPS Illustrator withrivers, roads, towns, town names, and national borders.