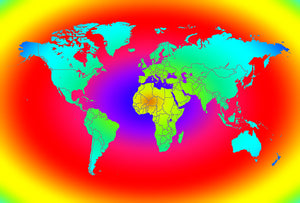 CoolMaps World 250 JPEG Map Graphics Collection
COOLMAPS World is a unique collection of instant designer World Views using a wide variety of dramatic and special effects. To emphasize the images, each World View has been given a different designer theme, texture, perspective or style. The views of the World are dramatic, artsy maps that can be quickly transferred into desktop design, publishing, presentation, draw, paint, or image editing programs for professional-quality presentations.
Volume 1.2 Bitmap RGB images are sized at 2953 x 2002 pixels giving a 16.9 Mbytes TIFF images compressed using JPEG to a disc file size of 0.5 to 3 Mbytes and decompress transparently into most applications. Image file sizes are designed with sufficient quality to support page size output.
CoolMaps USA Bitmap collection of 250 JPEG images are cataloged by design style as follows: Monochrome 8; Blends 12; Flags 8; Outlines 15; Ovoids 11; Perspective 20; Stars 12; America 22; CD discs 8; Fabrics 6; Metals 19; Paper 18; Woods 8; Painted 24; and Texture 59;